ABOUT THRUPPS
The grocers of distinction, Thrupps, first opened a shop on the corner of Eloff and President Streets in 1892. The store occupied a number of premises in Johannesburg itself before a major move to the northern suburbs in 1947 to Rosebank which later became the headquarters in 1966. Together with the enthusiasm of our new South Africa, Thrupps moved the business to the Thrupps Illovo Centre at 204 Oxford Road in Illovo, neatly placed between the busy Rosebank and the Sandton precincts.
Thrupps has always stocked a mixture of the best local produce and imported specialities. Founder Charles Thrupp soon discovered that the imported goods of the time were in great demand and by the early 1900's the cargo ships that sailed from the United Kingdom were laden with crates marked "Thrupps" and filled with assorted delicacies.
After World War II over one million food parcels were packed and posted to Britain, which meant an added work load of 1 000 parcels a day for four years. Among their food parcel clients were The Rt Hon. J. C. Smuts of Doornkloof, Irene, who sent supplies to Her Majesty the Queen at Buckingham Palace, Her Majesty Queen Mary at Kensington Palace and Sir Winston Churchill at Hyde Park Gate, London.
The grocery daily delivery service which still exists today was provided by horse drawn vehicles which were later replaced by motorised versions. This service, together with monthly accounts, a Home and Gift section, legendary food Hampers, Catering and a vast array of the best local and imported foods make Thrupps the unique South African grocery store for all times.
Through carefully balancing old world values with modern technology and systems, Thrupps caters for a wide range of customers and is well placed to expand the service ethic which remains the cornerstone of their business. Where else, but Thrupps, would you find store directors manning tills during peak conditions?
The future will always be determined by Customer needs and Thrupps will provide a full service and product to make your instore shopping as entertaining as possible.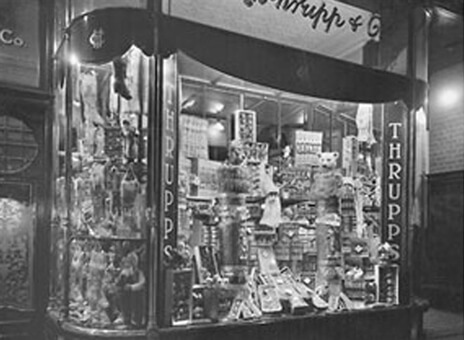 At our store you can see, taste and smell the delicacies on offer, while we deliver the basic groceries to your store.